Stygia Ulbran
Civilized men are more discourteous than savages because they know they can be impolite without having their skulls split, as a general thing.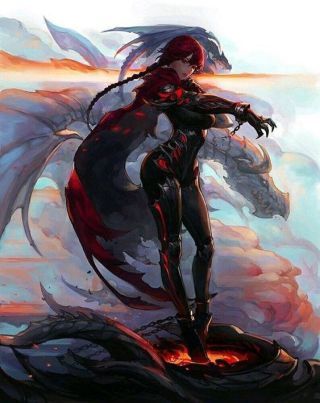 Social Rank: 9
Concept: Dock Worker
Fealty: Crownsworn
Family: Ulbran
Gender: Female
Marital Status: Single
Age: 25
Birthday: 8/17
Religion: Agnostic
Vocation: Renegade
Height: 5'8"
Hair Color: Crimson
Eye Color: Sapphire
Skintone: Sun-Kissed
Description: She is fiercely beautiful, with deep ruby red hair that falls to her hips and distinctive, calculating blue eyes. Her figure is both athletic and feminine and her movements executed with serpentine grace and an economy of movement that punctuates the long lines and taut muscle of her frame. She carries herself tall, unbent, and with a bearing that is nothing short of regal.
Personality: She's quiet, calculating, and it's rumored that she has absolutely no sense of humor. She has erected a high wall around her, remaining remote and cool for the most part but she is known to have a red-hot temper. Assertive and brutally honest to a fault, she never minces her words or dresses them up fancily and brooks no guff.
Background: Stygia was born and raised in the docks of Arx though for much of her life she stuck to the shadows and flew low and under the notice of most of the Lowers. Her mother worked at a tavern and it was rough, but not rougher than most stories that start down there. All of her young life she was fed tales of success and adventure from sailors passing through so it was no surprise when she turned old enough to pass for old enough that she bolted to the sea. She remained there for a number of years, though she's been back in the area for nearly a year now, picking up where she left off as a tavern frequent, staying low in the shadows. She has made the docks her home, not taking any more long voyages but instead cultivating her reputation as a force to be reckoned with.
| | |
| --- | --- |
| Name | Summary |
| Adora | Pretty bossy. She wants to try to tell people what to do, whatever. I don't like her. |
| Aethan | Somehow very aware of my marital status. |
| Ajax | A fine lass who knows she's fine. That makes me wary, and her dangerous. |
| Amund | A welcoming host and a personable person all around. Charmed some mysterious man out of possibly immolating us all! |
| Arianna | The Ulbrans are long time citizens of Arvum and they care a far deal more about this place than most of the Peerage. Stygia makes this readily apparent and then some. Wise. Perceptive and no nonsense. |
| Asher | I honestly have no idea who this person is, but she seems to think I should. Which makes me think I should stay around her more often because of that. |
| Auda | Sharp as her knife, and just as willing to carve out a spot. |
| Belladonna | Color me surprised. I suppose the Ulbrans will keep surprising me for the best. The possum needs to go, though. |
| Caspian | Beautiful and hilarious? A perfect combination. |
| Col | She has very few filters, if any. Brazen. Beautiful. Proud. She flaunts her success but I am not so sure I believe all the talk of doing so for others. She's an interesting conversationalist. |
| Duarte | Rather direct. I'm unsure if her giving bullet points of what she knew about me earned my respect or creeped me out a little. |
| Evaristo | A mysterious mix of danger and beauty - I am drawn to this like moth to flame. Let us hope I will not burn too much! |
| Faye | An interesting woman, friendly enough. Sharply observant. I'm fairly certain there's more to her than there appears. I'd like to find out more. |
| Fiora | That's an awfully expensive get-up for no one of note. |
| Gianna | A very confident and capable seeming woman with a considerable reputation. |
| Giulio | Intriguing. Appropriately cautious, but potentially one I can work with. |
| Harlex | The blue-eyed serpent through the tall grass. Could wring her out in my fangs, if I desired, but she'd make me regret it--I have no doubt. |
| Isidora | A woman of many pleasures. And knows about wolves. Interesting. |
| Joscelin | Mysterious, wriggly. She has pretty lips and sly eyes. I probably shouldn't like her but Evaristo talks her up a lot. Anyone that has Risto's admiration has my respect. |
| Josephine | Polite for an Ulbran, and a delight. She cares for her weapons well and in turn, they serve her well. Little surprise there. |
| Karadoc | A sapphire-eyed serpentine Queen. |
| Keyser | Quite the enigma and the juxtaposition of good and greed. Maybe just shy of balanced but like the onion, layers upon layers and a good deal of tears. |
| Lys | What an incredibly interesting woman. So utterly smart too, you can just tell. |
| Magpie | Lovely, smart, competent, and to-the-point. Magpie doesn't know her well, but she's already shown to be able to listen to ideas as much as suggest her own in a lovely balance. It's a delicate dance that she executes beautifully to win people over. |
| Mailys | Calm, capable. Connected. I think I'm going to like getting tot know her. |
| Mirella | An interesting and humorous woman. I'd like to talk with her again when the opportunity arises. Her possum is a walking assault upon the nostrils, but it's quite cute in its own way. |
| Mortimer | An eccentric young woman from the lowers. |
| Ras | I got the weird feeling she might actually care about the Lowers, and not just herself. |
| Reese | named after the metal, seems confident and logica with the way she moves without waisting any energy. |
| Salena | A city borne lass I met on my first visit to the docks, so she had found me in high spirits. Didn't have much time to talk but for a person of common birth and no title to give in introduction, she has not let that tie her down in financial rears. Anyone has to admire that work ethic. |
| Sorrel | A very busy if somewhat coarse woman, Stygia seems inclined to 'tell it how it is.' She's got a playful and cheerful attitude, and she likes her coffee very strong. Very very strong. |
| Svoli | She is A Lot. But in seemingly a good way. Funny. |
| Tescelina | As different as mice and moonbeams. I liked this, meeting you. We are so far apart, from other worlds entire. How strange, the thing which maligns me so connected us to meet. A formidable woman but with earthy wisdom. |
| Theodoric | The once and future Queen, an imitation of shadow cast long and hiding much. |
| Valenzo | A stunningly commanding presence. Caught me completely off-guard, and I usually have a sharp eye for the unusual! I hope I get a chance to see more of her. |
| Vitalis | A fellow whip wielder. We will have to trade techniques. |